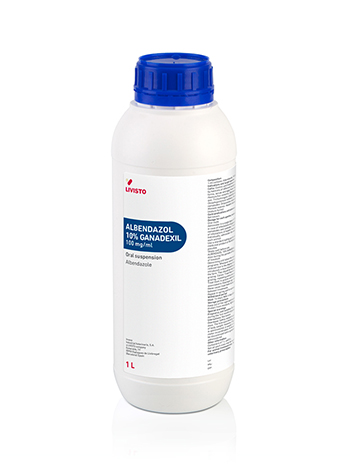 ALBENDAZOLE 10% GANADEXIL
( Calves )
Composition :
Albendazole ................. 100 mg/ml
Indication :
Cattle: control and treatment of verminosis caused by helmints of different locations, being active on adult form, larvae and egg form.
Gastrointestinal nematodes: Haemoncus contortus, Ostertagia ostertagi, Trichostrongilus axei, Trichostrongylus colubriformis, Cooperia oncophora, Oesophagostomum radiatum, Nematodirus helvetianus
Lung nematodes: Dictyocaulus viviparous
Cestodes: Moniezia expansa
Hepatic trematodes: Fasciola hepatica (mature form)
Dosage and Usage :
Administer in a single dose:
0.75 ml/10 kg body weight, in case of infestations of gastrointestinal nematodes, lung nematodes and cestodes.
1 ml/10 kg body weight in case of infestations of hepatic trematodes (Fasciola spp).
Registration Number :
Kementan RI. No. I. 12051802 PKC.2
Product Enquiry Form
Thank you for your interest in PT. Agro Makmur Sentosa. Please complete the form below and one of our sales representative will contact you with further details about this product.
You can also talk to us directly on +6221 555 67 81 during business hours.
Thank you for your message
Sorry, your message cannot be processed