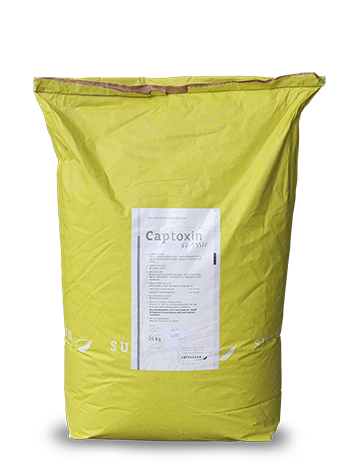 CAPTOXIN PREMIUM
( Calves, Poultry, Pig, Cat, Dog, Sheep, Goat )
Composition :
Siliciumdioxides special (E551c), special Bentonites (E 558), special aluminosilicates (E559) yeast cell wall, and mineral.
Indication :
CapToxin Premium a feed additive that helps prevents mycotoxins by binding and eliminating the dangers of mycotoxins. Captoxin Premium also contains the cell wall of yeast that can resist DON and mycotoxin zeralenon. CapToxin Premium help avoid mycotoxins can be used for all animals.
Dosage and Usage :
CapToxin classic can be used by mixing the product in animal feed (in feed or feeding cart system) or it can simply be sprinkled on food
Product Enquiry Form
Thank you for your interest in PT. Agro Makmur Sentosa. Please complete the form below and one of our sales representative will contact you with further details about this product.
You can also talk to us directly on +6221 555 67 81 during business hours.
Thank you for your message
Sorry, your message cannot be processed