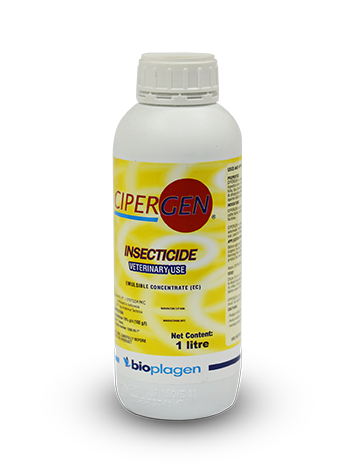 CIPERGEN
( Calves, Poultry, Dog )
Composition :
Cypermethrin ....................10 % (w/v)
Indication :
Cipergen effective against flies, ticks, and mites. Have a high working power at low doses, so that effective against larvae and adult forms and indirectly affect the eggs.
Dosage and Usage :
Before it is used, the cage was cleaned of organic residues (waste feed, feces, and urine). Applications made ​​when the animals are out of the cage.
Dissolve 50 ml in 50 liters of water for every 100 m2 surface and insert it into the tank sprayer, then spray.
Registration Number :
KEMENTAN RI No. D. 18075556 PTC
Product Enquiry Form
Thank you for your interest in PT. Agro Makmur Sentosa. Please complete the form below and one of our sales representative will contact you with further details about this product.
You can also talk to us directly on +6221 555 67 81 during business hours.
Thank you for your message
Sorry, your message cannot be processed