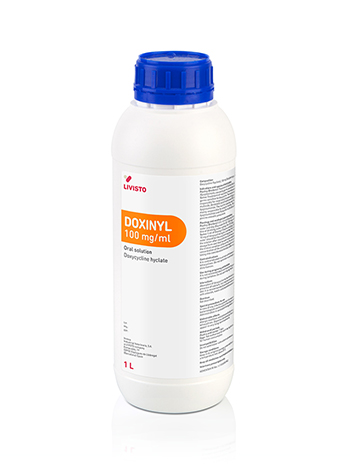 Composition :
Doxycycline .................. 100 mg/ml
Indication :
Poultry: treatments of collibacillosis, CRD, and mycoplasmosis, caused by microorganisms sensitive to doxycycline.
Pigs: Treatment of respiratory tract diseases caused by microorganisms sensitive to doxycycline. The main bacteria pathogens that infect the respiratory tract in pigs are Pasteurella multocida, Bordetella bronchiseptica, and Mycoplasma hyopneumoniae. The two first species are the organism mainly responsible of atrophic rhinitis. Pasteurella multocida, and Mycoplasma hyopneumoniae are relatedwith porchine enzootic pneumoniae.
Dosage and Usage :
Broiler: 0,5 – 1 ml/liter of drinking water for 3-5 days
Pig: 1 ml/ 10 kg body weight/ day for 5 days.
Registration Number :
KEMENTAN RI No. I. 11124188 PKC
Product Enquiry Form
Thank you for your interest in PT. Agro Makmur Sentosa. Please complete the form below and one of our sales representative will contact you with further details about this product.
You can also talk to us directly on +6221 555 67 81 during business hours.
Thank you for your message
Sorry, your message cannot be processed