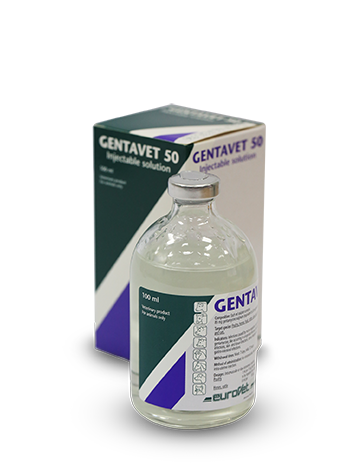 Gentavet 50
( Calves, Poultry, Pig, Cat, Dog, Sheep )
Composition :
Gentamycine sulphate 85 mg/ml
Indication :
Infections caused by micro-organism, susceptible to gentamycine, like occurring in urogenital infections, respiratory infections, skin-and tissue infections, uterus infections and gastro-intestinal infections
Dosage and Usage :
Intramuscular or slow intravenous
Poultry : 1 ml/15 kg body weight intramuscular, to be repeat after 48 hours
Horses, cattle : 8 ml/100 kg body weight
Foals, calves, pigs : 4 ml/50 kg body weight
Piglets, dogs, cats : 0.5 ml / 5 kg body weight
Intra uterine aplication:
Horses (only during estrus)
Acute metritis : 10 ml / day for 3-5 days
Chronic metritis : 40 - 50ml/hari for 3-5 days
Cattle: dissolved 4 ml in to 16 ml physiological NaCl solution.
Registration Number :
Kementan RI. No. I 12072048 PKC.2
Product Enquiry Form
Thank you for your interest in PT. Agro Makmur Sentosa. Please complete the form below and one of our sales representative will contact you with further details about this product.
You can also talk to us directly on +6221 555 67 81 during business hours.
Thank you for your message
Sorry, your message cannot be processed