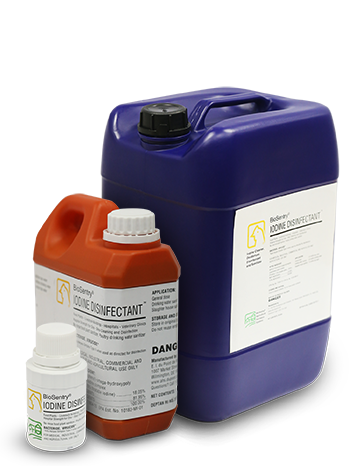 IODINE
( Calves, Poultry, Pig, Cat, Dog )
Composition :
Alpha-(P-nonylphenyl)-Omega-Hydroxypoly (Oxyethylene)-Iodine Complex 18.05%, (Providing 1.75% iodine tertitrasi) 16.00%, Phosporic acid 65.05%.
Indication :
This products used on a hard surface, nonporous, (glass, stainless steel, zinc-plated metal, wood surfaces). Use on walls, floors, household appliances, tools, and equipment. Prepare fresh solution daily. Do not reuse solution that has been used. Use the solution with a mop or scrub to wet the entire surface
Dosage and Usage :
Disinfection: 1 oz / 2 gallon of water let the surface wet with sanitizer for 10 minutes
Hand sanitation in the meat and poultry
1 oz / 5 gallons of water (25 ppm iodine that can be titrated) left the surface wet with sanitizer for 10 minutes for 1-2 minutes.
In the water cooling tubes for canning:
1 oz disinfectant for every 6-10 gallons
Sanitary water fowl:
3 oz / gal of water at front entrance to wash feet for 30 seconds.
For sanitation sows:
Before putting sows in pens flops, rub flank and udder with a solution of 1 oz / gallon of water
deodorant:
1 oz / gallon of water.
Registration Number :
Deptan RI. No. I. 002061739 PTC.1
Product Enquiry Form
Thank you for your interest in PT. Agro Makmur Sentosa. Please complete the form below and one of our sales representative will contact you with further details about this product.
You can also talk to us directly on +6221 555 67 81 during business hours.
Thank you for your message
Sorry, your message cannot be processed