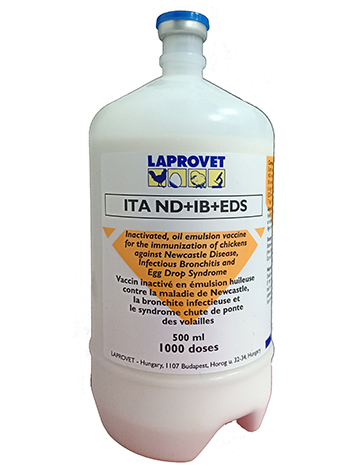 ITA ND+IB+EDS
( Poultry )
Composition :
Newcastle disease virus Lasota strain, Infectious Bronchitis Massachusstes strain, Egg Drop Syndrome B8/78 strain
Indication :
Vaccines ITA IB + ND + EDS inactivated vaccine is recommended for breeders and layers, which had previously been vaccinated against ND and IB active.
Dosage and Usage :
ITA IB + ND + EDS inactivated given breeder and layer 3-4 weeks before the spawn, between the ages of 16 and 20 weeks. The vaccine is injected subcutaneously (under the skin of the neck) or IM (chest muscles or thigh muscles) at a dose of 0.5 ml / each
Registration Number :
KEMENTAN RI No. I. 19103970 VKC.1
Product Enquiry Form
Thank you for your interest in PT. Agro Makmur Sentosa. Please complete the form below and one of our sales representative will contact you with further details about this product.
You can also talk to us directly on +6221 555 67 81 during business hours.
Thank you for your message
Sorry, your message cannot be processed