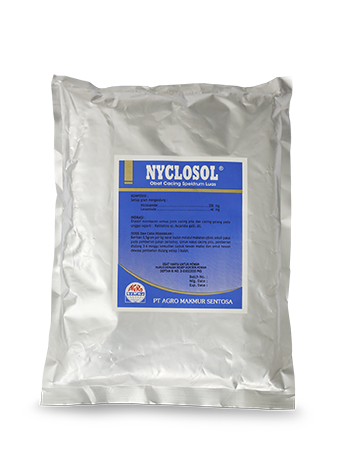 Composition :
Each kilogram contains:
Niclosamide 200 g
Levamisole 40 g
Indication :
Efektif membasmi semua jenis cacing pita dan cacing gelang pada unggas, seperti Raillietina sp. , Ascaridia galli, dll
Dosage and Usage :
0.5 grams per kg of body weight or equivalent with 7.5 kg per ton of feed (disposable dose at first feeding). For the case of tapeworms, giving repeated 3-4 weeks later (for young animals) and for the provision of adult animals was repeated every 3 months.
Registration Number :
KEMENTAN RI No. D. 12122533 PKS.1
Product Enquiry Form
Thank you for your interest in PT. Agro Makmur Sentosa. Please complete the form below and one of our sales representative will contact you with further details about this product.
You can also talk to us directly on +6221 555 67 81 during business hours.
Thank you for your message
Sorry, your message cannot be processed