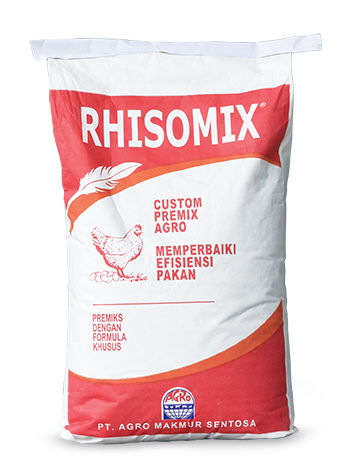 Composition :
Each kilogram contains:
Vitamin A 4,000,000 IU Vitamin D3 800,000 IU, Vitamin E 5,000 mg, Vitamin K3 800 mg, 400 mg Vitamin B1, Vitamin B2 2,000 mg, Vitamin B6 80 mg, 2,000 mg Vitamin B12, Ca pantothenat 1200 mg / kg, Choline chloride 100,000 mg, Nicotinic acid 2,000 mg, Folic acid 200 mg, Dl-Methionin 60 g, 18 g L-Lysine, Magnesium carbonate 10 g, 10,000 mg Zinc carbonate, Iron sulphate 8,000 mg, 2,400 mg Copper sulphate, Cobalt sulphate 40 mg, 240 mg Potassium iodide, Manganese carbonate 19,200 mg
Indication :
RHISOMIX is a complete blend of minerals, water and fat soluble vitamins, amino acids, growth factors, stimulating flavors, tonic and certain aromatic substances, given to poultry to improve acute and chronic deficiencies, and provide certain elements for growth and development.
Use for treatment and prevention of acute and chronic deficiency, anorexia, malnutrition, before the healing period, rickets, growth impairment.
Dosage and Usage :
Combine 2.5 kg in 1 ton of feed
Registration Number :
KEMENTAN RI No. D. 15050849 FTS.2
Product Enquiry Form
Thank you for your interest in PT. Agro Makmur Sentosa. Please complete the form below and one of our sales representative will contact you with further details about this product.
You can also talk to us directly on +6221 555 67 81 during business hours.
Thank you for your message
Sorry, your message cannot be processed