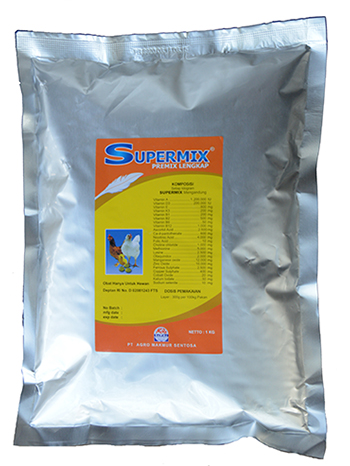 Composition :
Each kilogram contains:
Vitamin A 1,200,000 IU Vitamin D3 200,000 IU, vitamin E 800 mg, Vitamin K3 200 mg, 200 mg Vitamin B1, Vitamin B2 500 mg, 50 mg Vitamin B6, Vitamin B12 1000 mg, 2.500 mg Ascorbic acid, Ca-d-Pantothenate 600 mg, Nicotinic acid 4,000 mg, Folic acid 10 mg, Choline chloride 1,000 mg, methionine 5,000 mg, Lysine 2,500 mg, 12 000 mg Manganese oxide, zinc oxide 10.000 mg, 2.500 mg Ferrous sulphate, sulphate Cooper 400 mg, Cobalt oxide 20 mg, 30 mg potassium iodate, Sodium selenite 10 mg.
Indication :
Increase the rate of metabolism
Prevent vitamin and mineral deficiency
Efficient use of feed diet
Dosage and Usage :
Layer: 300 g per 100 kg of feed
Registration Number :
KEMENTAN RI No. D. 17051243 FTS.1
Product Enquiry Form
Thank you for your interest in PT. Agro Makmur Sentosa. Please complete the form below and one of our sales representative will contact you with further details about this product.
You can also talk to us directly on +6221 555 67 81 during business hours.
Thank you for your message
Sorry, your message cannot be processed