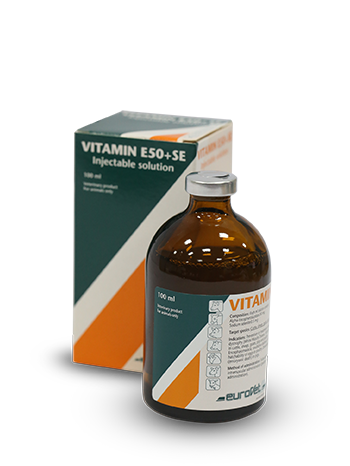 Vitamin E50+SE
( Calves, Poultry, Pig )
Composition :
Each ml contains:
α – tocopherol acetate 50 mg / ml
Sodium selenite 0.5 mg / ml
Indication :
Prevention or treatment of muscular dystrophy (White Muscle Disease, Stiff Lamb Disease) in Cattle, Sheep, Goat, Pig and Poultry; encephalomalacia, exudativa diathesis, decreased hatchability of egg in poultry, diminish fertility (embryo mortality) in Pig.
Dosage and Usage :
Subcutaneous or intramuscular administration (poultry: oral administration).
Lambs, calves, piglets : 2 ml / 10 kg
Pigs : 1 ml/10 kg
Poultry : 5 ml/30 liters of drinking water for 6 days.
Repeat injection after 2-3 weeks (in case of prevention 1 injection will be sufficient)
Registration Number :
KEMENTAN RI No. I. 12092219 PKC.2
Product Enquiry Form
Thank you for your interest in PT. Agro Makmur Sentosa. Please complete the form below and one of our sales representative will contact you with further details about this product.
You can also talk to us directly on +6221 555 67 81 during business hours.
Thank you for your message
Sorry, your message cannot be processed