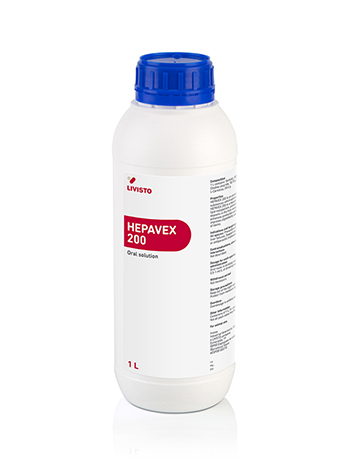 HEPAVEX 200 (INVESA)
( Calves, Poultry, Pig, Cat, Dog, Sheep, Goat )
Composition :
Sorbitol 200 mg, L-Carnitine 25 mg, DL-Methionine 10 mg
Choline Cloride 18.75 mg, Magnesium sulphate 10 mg
Indication :
Hepavex 200 can use for all species to prevention of fatty liver and other liver failures, support of treatments with antibiotics and antihelmintics and eliminations of toxin.
Dosage and Usage :
0.5-1 ml per litre of drinking water, during 5-7 days. Oral route in drinking water.
Registration Number :
KEMENTAN RI No. I 18113613 PTC.1
Product Enquiry Form
Thank you for your interest in PT. Agro Makmur Sentosa. Please complete the form below and one of our sales representative will contact you with further details about this product.
You can also talk to us directly on +6221 555 67 81 during business hours.
Thank you for your message
Sorry, your message cannot be processed